[ad_1]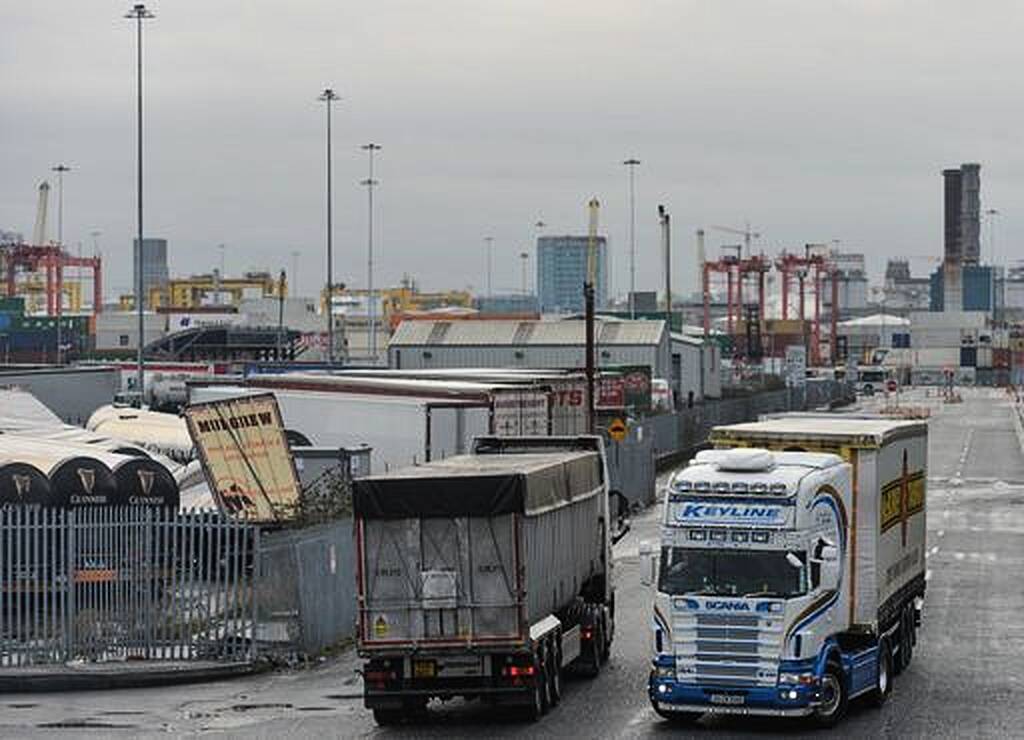 We are only two weeks into 2021 and Brexit is already causing chaos, particularly for hauliers.
Irish truck drivers are "frustrated" as jobs that would have previously entailed an overnight return to the UK are now being delayed for days over red tape issues.
Paul Browne, executive director of Cube Logistics, spoke to BreakingNews.ie about the issues presented by Brexit.
His company deals in warehousing, import, export, shipping, transport, freight, air freight, ocean freight, logistics and distribution so Mr Browne is seeing first-hand the impact of Brexit.
If you have food, livestock, perishables, they are problems and there's a lot of red tape.
Mr Browne says Irish Revenue has done a "fantastic job" in helping businesses and drivers to prepare for Brexit. However, he feels issues with the computer systems used by Revenue and the UK Revenue and Customs have presented huge issues that are making previously routine deliveries difficult.
'No such place as Norway'
"We tried to import something from Norway into Ireland and the system said 'no such place as Norway'. I know that's unusual because Norway is not really in the EU, but it is a country so it should have recognised it, those kinds of problems," he explains.
"To move something across the Landbridge you need a TIR, a temporary bond licence, and if that particular trailer doesn't arrive at the consignee's site then whoever has the guarantee has to give the money to Revenue for any loss of duty or VAT. We couldn't use TIR on the new system yesterday, January 13th."
"I would imagine 80 per cent of the problems that everyone is experiencing are down to the two pieces of software — that Her Majesty's Revenue and our Revenue use," he adds.
"We have an ERP (enterprise resource planning) system that covers customer relationship, warehouse management, freight jobs, we're moving our containers all around the world.
"We do a lot of pharmaceutical, hazardous goods, urgent goods, on-board couriers, we book flights and charter planes, so every time somebody in revenue has to make a change to our system, they're going in without the proper due diligence being done on the software change.
"This is causing us problems in other parts of the software. On top of all the delays and all the frustrations in trying to get customs clearance done, now our software is not behaving like it did on December 31st.
"This is not a profit-generating thing for us, all we're trying to do make sure our customers that we do business for get their goods on time and the trailers back out. It is far from easy at the moment."
Brexit delays
Mr Browne said trailers that would have previously arrived on a Tuesday morning before returning to the UK with goods, but are now only arriving in Ireland on Wednesday, leading to major logistical issues for customers.
"We pick up trailers on a daily basis from the UK and bring them to our customers over here, we bring them into our warehouse and distribute them around. We picked up trailers last Monday, they only arrived here through customs on Wednesday.
"I have a trailer in the UK, it's supposed to come over here on Monday night, it gets here on Tuesday morning and then it's supposed to pick up
here and go back to the UK, that trailer hasn't arrived until Wednesday; so all the work that was supposed to go out of here for Tuesday, Wednesday, Thursday night….there's no trailer.
"Somebody then has to get another trailer, but that trailer can't get out of here. Now I need another trailer to pick up my Tuesday collection in the UK."
While very limited deliveries are still unaffected by Brexit, Mr Browne revealed that any truck carrying different items is liable to delays.
Supermarket shortages
He says shortages on Irish supermarket shelves are inevitable as perishable goods are the ones subjected to the most red tape.
Meanwhile, the average delay on deliveries that were previously one day or overnight is up to five days.
"You're looking at four to five days. That depends on the complexity of it, if you have one trailer with 26 pallets of one product, it's only going from one user to another, that could get in straight away.
"However, most of our stuff is going out in double-decks, I have a customer that brings in 1,000 consignments on a trailer, all pretty small value, but if customs want to inspect even one of them that whole trailer has to be held up.
"Some stuff is coming through straight away, that's a garden product, a grass feed, a trailer with just one commodity, they're easy.
"If you have food, livestock, perishables, they are problems and there's a lot of red tape. They're the products that are not making it onto the shelves in Northern Ireland because they can't get them in."
While some had anticipated Ireland's ports facing massive queues after Brexit, the problem is securing permission to deliver goods to the UK.
"All of these trailers, it's a finite resource like the boats are, I have WhatsApps and videos of empty boats from our drivers.
"They're saying, 'this is the Stena ghost', there's nobody travelling because of Covid and it's only trucks and there's about seven trucks on a vessel. That's a finite thing as well, once it has sailed 30, 40, 50 trucks have to get another vessel, so potentially the next day there are 100 trucks trying to get that vessel, and they can't get out of the port.
"The actual problems we thought Brexit would deliver, huge queues at the ports for example, haven't materialised because we can't even get the pre-booking notifications from the UK site to get a trailer to the port."
Stockpiling
These issues have culminated in stockpiling in companies in Ireland and the UK.
"Now they're stockpiling in manufacturing sites and warehouses in the UK and in Ireland because nobody is going to pick it up.
"The headache that this brings is huge, we've been working until 2-3am every morning, just to get a trailer that we'd normally pick up in London at 5.30pm on a Monday night and it's here at 6.30am on a Tuesday morning.
"We can't see light at the end of the tunnel, that's one of the most frustrating things. What we're spending most of our time on is not booking trailers or trying to find somebody who has capacity, it's just clearing it and getting the paper work and red tape sorted."
Companies who trade with non-EU countries require an Economic Operators Registration and Identification (EORI) number.
Mr Browne said confusion over this has contributed to Brexit issues for companies in Britain and Ireland as UK companies who had already secured EORI numbers were only told they would have to re-register them on January 6th.
"All our UK customers registered for an EORI in 2020, they registered these numbers and on January 1st the UK was no longer in the EU so these were all invalidated so everyone who had done it had to go to each country and re-register their numbers.
Brexit
Brexit-ready Lidl boasts full shelves as other sup…
"We only found that out from Her Majesty's Revenue on January 6th."
Mr Browne said his drivers are frustrated at the confusion and delays on routes they have been working for years.
"They don't understand how it's so complicated, they're thinking 'I'm doing this route for years, what's going on?'"
[ad_2]

Source link