[ad_1]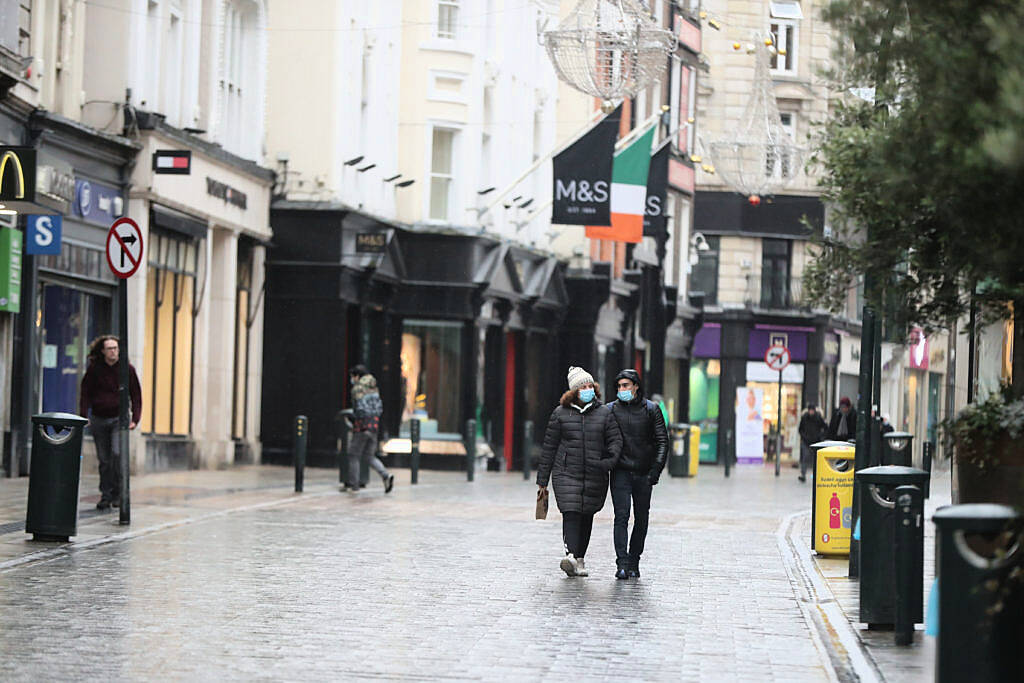 Irish consumers are now the most anxious in Europe for the second time in three months, according to a survey, as confidence in shopping in-store has plummeted by 12 per cent.
Anxiety levels increased by 15 per cent among Irish consumers compared to a previous wave of research, conducted four weeks earlier by Deloitte. The next-most-anxious nation in Europe is the UK, followed by Italy and Poland.
The monthly survey from the global consultancy firm tracks Irish consumers' attitudes towards personal wellbeing, financial concerns, travel and hospitality, transport and retail. The results are based on a survey of 1,000 people and are compared across 19 countries.
The most recent data was gathered between December 30th and January 6th, directly following a surge in Covid-19 case numbers and the country's return to full Level 5 restrictions.
Consumers' concern for their personal physical wellbeing decreased by 1 per cent to 52 per cent, while concern for the health of their family members increased by 3 per cent to 66 per cent. Concern around returning to the workplace was up by 5 per cent to 37 per cent, with concern about job loss down slightly by 1 per cent to 31 per cent.
Confidence in using person-to-person services decreased by 9 per cent to 47 per cent. Some 32 per cent said they would feel safe going to a restaurant, down 8 per cent since the last wave of research, while confidence in shopping in-store decreased by 12 per cent to 52 per cent.
There was a decrease of 8 per cent in intention to spend on utilities and a 26 per cent decrease in spending intention on groceries following the Christmas period. Decreases were also recorded in spending intention on discretionary items such as clothing and footwear (down 42 per cent), restaurants and takeaways (down 40 per cent) and alcohol (down 39 per cent).
As non-essential retail was again forced to shut amid rising Covid-19 case numbers, 51 per cent of consumers reported being more concerned about the security of their personal data now that they are shopping more online.
When asked about the sources of their anxiety, 84 per cent of Irish consumers cited Covid-19, with 40 per cent citing financial stress and 28 per cent citing their job or employment situation.
Travel and hospitality
There was a decrease of 19 per cent in consumers' willingness to spend on travel and a decrease of 11 per cent in those planning to travel for leisure over the next three months.
Business
Consumer prices fall 1.5% as Covid-19 hits retail
Confidence in staying in hotels was down by 6 per cent while confidence in air travel was down by 5 per cent. Some 47 per cent do not think it is safe to stay at a hotel right now, up 3 per cent on the previous wave.
Increases were recorded in those who intend to limit their use of public transport (66 per cent, up 5 per cent) and ride-hailing services (58 per cent, up 3 per cent) over the next three months. There was a 6 per cent increase in those wishing to purchase their next vehicle online, if available.
Commenting on the latest results, Daniel Murray from Deloitte Ireland said: "While Irish consumers are once again the most anxious in Europe – having last held the position back in October 2020 – the research shows us that this is driven in the most part by health concerns, with Ireland scoring comparatively well in terms of financial concerns.
He added: "However, looking at the national picture against that of our European neighbours, it appears that the supports introduced by the Government have cushioned the blow to a certain extent. This could mean that spending will start to pick up again once the worst of this new wave of Covid-19 has passed, as it did following the first two waves in 2020, which would be welcome news to retailers."
[ad_2]

Source link